Callan
There is no shortage of information on the web about Callan, which starred Edward Woodward and ran from the late 1960s to the early '70s on Independent Television. If you have not visited them already, the following sites are worth checking out:
My contribution to the cannon consists, largely, of scans from my scrapbooks, compiled at the time, and this episode listing.

The excellent Action TV magazine> took an in depth look at the series in a feature called "The Blunt Instrument" in its Autumn 2001 issue No 5 (now sadly out of print, although copies do come up from time to time on e-Bay.)
Given they no longer have copies for sale I hope they won't mind me including a scan of the feature here - if nothing else it serves to demonstrate the quality of the magazine. Click the cover alongside.
CALLAN SHORT STORIES
In 1967 the TV Times Christmas Extra Magazine featured a Callan short story "Merry Christmas from the Section" - written by Callan's creator James Mitchell.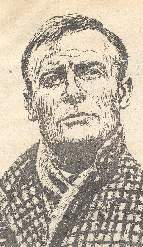 I also have copies of Callan short stories, written by James Mitchell and published in the Sunday Express in 1973, at the height of the show's popularity.
xxx File on a Deadly Deadshot
xxx File on an Angry Artist
xxx File on a Reckless Rider and
xxx File on a Weeping Widow
I have scanned them and they are in a PDF file.
Despite the ravages of time on newsprint they are clear enough still to read. Access by clicking the line drawing alongside.