Michael J Bird Tribute Website
---
Tributes
from colleagues and fans
---
Michael Bird, modestly, once said:


"My object in life, through writing, is to entertain people and make people forget their problems."

Did he succeed ...?




"I too rate Michael's work highly and of course after The Lotus Eaters 1972/73 we became great friends.

Michael and Ian (Hendry) were both very underrated. Their talent will be missed. Ian should have been an International star - and Michael was full of original ideas, which were never commissioned. He had some wonderful stories to tell and masses of ideas - The Lotus Eaters could have gone on for some considerable time had it not been for Ian Hendry's health."



Wanda Ventham
(Ann Shepherd - The Lotus Eaters)
---

"I'd not met Michael when I was cast in his The Outsider for Yorkshire TV. Only when I arrived on the set was a firm friendship twixt writer and actor made. From that moment we became firm friends, me, 'im and Olive.

There are many, like me, who will miss him very, very much. Apart from owt he and I will not be exchanging Christmas cards this year and he'll not be making that cherished film of his set on the Greek island of Koz. But I'm sure he's busy up there - wherever there is - and I trust when I next see him (but not yet awhile please!) he'll have a great part waiting for me. See Ya - not too soon - mate."

Michael Sheard
(Reuben Flaxman - The Outsider) &
(Von Reitz - The Dark Side of the Sun)

[Sadly, Sheard joined Bird sooner than he might have hoped. The actor died in August 2005 aged 65. Read the BBC report of his death.]
---
"Michael was a very good friend of mine. I have known him since 1983, and we kept in touch regularly up until his death last year. I was very sad about his death. He and Olive were planning to visit Alesund again in the summer of 2001, when we were host port for the Cutty Sark Tall Ships Races."



Bente Saxon
(Norwegian Liaison - Maelstrom)
---

"I've been so interested to visit your website for Michael, which I think is excellent. It is good to know that he is so well remembered. I liked him very much, finding him companionable and appreciative of what an actor can contribute to the realisation of a script. He had an excellent sense of humour, dry, occasionally sardonic.

Filming Maelstrom in Norway was a delight and Michael and I had many interesting talks. He introduced me to his family (at his invitation I took the hutigruten with him down the coast to meet them when they arrived in Bergen.) He was always very good to be with: excellent company. "



Trevor Baxter (Dr Phillimore - Dark Side of the Sun) &
(Dr Albrigsten - Maelstrom)
---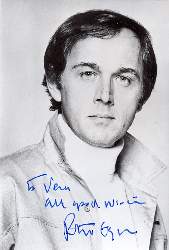 Peter Egan enjoyed working on The Dark Side of the Sun and was clearly pleased with the production. He has fond memories of filming on Rhodes where he met Michael Bird a number of times, and also Michael's wife Olive, who joined them for a holiday. Mr Egan says he found them both friendly, charming people.

He recalls the series was very well received at the time and was surprised that it was never repeated and that the BBC made no attempt to follow it up with a sequel.




---

"Whoever happened to meet Michael Bird cannot help but have a very intense memory by that explosive personality. True representative of the Irish artist, a person with enormous contradictions. He was overwhelming and explosive, fierce and deeply tender, with a deep sense of humour, unexpected outbursts which were intensely theatrical, an imagination that surprised, and a charm which occasionally went over the limits. A soul which was difficult to discern its depth.

Irish people are deeply related with the Greeks. I remember discussing it with Michael. He was very fond of Greece especially Crete. He used to say that the difference between Greeks and Irish came from the rain. In Ireland it rains a lot and the roots are wetter...

I met Michael Bird when he came to Athens to cast Who pays the Ferryman? many years ago. I was asked by the Greek Film Centre to meet the author and the film director so that to be given the leading part in that series. I was very nervous, as it was the first time I had a chance to participate in a foreign production, much more in a BBC one! In Greece I was already well known as leading actress both in the theatre and cinema.

I remember my first impression of Michael Bird. I recall his eyes, which were a mixture of charm and challenge, mocking and undressing your soul simultaneously. I felt conquered and at the same time very close to him. Later, when we became very good friends, he told me that the moment the door opened and I entered he thought "This is Annika" (the name of the character I played in the series) "I wrote it for her". In fact there was something supernatural in our first meeting.

Later on our relationship became very precious. I got to know him and vice versa very well and this friendship lasted for years. We worked together again and exchanged letters for many years. I met his family and we discussed a lot concerning his life. For me Michael Bird is not dead. He lives."



Betty Arvaniti
(Annika Zeferis - Who Pays The Ferryman?) &
(Ismini Christoyannis - Dark Side of the Sun)
---

Emily Richard still recalls the detail in Michael's script, discussions with the director, cast and producer in rather bleak hotel rooms and a boat trip to Simi with Michael. "Olive arrived ... and I remember walking with her in the small streets of Rhodes telling her about our longed for pregnancy."
"Without exception ... everyone connected with The Dark Side of the Sun was supportive and generous with their time and affection for the project. That was M.J.B.'s gift - to bring people together."
Emily Richard
(Anne Tierney - The Dark Side of the Sun)
---

"I had no idea that Michael had died and was very sorry to hear of it. I remember him very fondly - he was a charming, warm, witty person and as a writer a delight for actors as he was both approachable and flexible. Not always the case.

These days one often only meets the writer briefly at a read through but I do remember Michael being around quite a lot and being constructive and jolly ... and buying a lot of drinks."
Elizabeth Bennett
(Lady Wrathdale - The Outsider)
---

"I consider Michael to have been one of the most original talents and a most interesting man with whom I spent quite a few evenings in some taverna in Aghios Nikolaos in Crete where we were filming The Lotus Eaters.

It was around 1972 and Michael was in top form. He was a born story teller and in the evening, after the other members of the crew had left, Michael and I would chew the fat, talk about scenes scheduled for filming the next day and life in general. Even if only half of what he told me were true, Michael at an earlier time in his life must have been halfway to being a "spook" a kind of James Bond. I can't quote chapter and verse now but I do remember being enthralled by his tales of cloak and dagger doings.

Michael was never overly protective of his work; he would listen to ideas, allowing a metamorphosis to occur which is why I held and still hold him in such high regard. Often discussions would end with Michael rewriting dialogue on a napkin, which I would then retype and shove under the bedroom doors of the sleeping actors. This didn't make either of us popular but it made for more imaginative story-telling."
Viktors Ritelis
(Director on both The Lotus Eaters and The Aphrodite Inheritance)
---

"Michael Bird: a person, a friend for the Greek Film Centre


I met Michael Bird in the Spring of 1977. As producer, I had taken on the Greek part of the production of Who Pays the Ferryman? and I was with Michael, the director Bill Slater and the head of the production Colin Dudley in Crete in order to arrange the locations for filming. During the trip, as is usual for me, I tried to understand with whom I was travelling and with whom I would share my life during summer that the filming would last.

On the way from Chania to Aghios Nikolaos where we were based, I decided that in Michael I saw three different people - three different characters. At the grave of Nikos Kazantzakis, the famous Greek author, Michael had been moved by viewing the final resting place of his favourite author and he read and re-read in a whisper, in the Greek language, the phrase which was inscribed on the marble:

I believe in nothing. I am frightened of nothing. I am free.

Later, when my relationship with Michael went beyond the professional and turned into a deep friendship I saw that I had judged him correctly early on in our acquaintance.

He was a person who believed in always giving of his true self, whatever he was involved in. Although he came from a country so very far from the island of Crete, he was able to give to the scene the real character of that idiosyncratic island. This ability to really get to grips with the Cretean characteristics became obvious not only in his work but also in his interactions with the people around him, in the coffee shops, the streets, the houses and the areas where he contemplated and created his heroes.

He was always one step ahead of everyone else, even me, a Greek. Perhaps it was because he had the same ideology as Kazantzakis. I thank Michael Bird because I learned more about Greece through him. "

Petros Raptis
(Greek Production Manager on both Who Pays The Ferryman? and The Dark Side of the Sun)
---

"I had the pleasure of working with Michael for several years and grew quite fond of this vexatious, talented, irritating, unpleasant, cantankerous, entertaining, witty, delightful, sympathetic, lying, promising, charming and difficult man.

We had started working together on a TV series entitled 'Brett' for the BBC before moving on to The Lotus Eaters. After I became Controller of Drama at Yorkshire Television we made several programmes together. After each one I said "I will never work with him again - he is impossible." But I liked him so I always did."
David Cunliffe
(Director, The Lotus Eaters and Controller of Drama - Yorkshire Television)
---

"My relationship with Michael Bird was most amicable and I considered him to be a very professional, talented and creative writer. At times he tended to 'mix' the relationships between director, artistes and producer, which created a rather tense atmosphere. I think he felt this all helped to keep everyone on their toes and was a way of protecting his work. Occasionally he demonstrated being quite dramatic and emotional when he wanted a change in a scene or an adjustment to the interpretation of one of his characters. Nevertheless, these moments of 'off screen' drama did not affect the end product and the success his scripts so rightly achieved.

Sometimes writers deliver their scripts in an untidy state, but not in the case of Michael J. Bird. It was always a welcome sight to see a perfectly well typed, neat layout on the pages of his scripts and rarely did the content not match the high quality of the typed pages.

Overall I consider some of the highlights in my 40 year career in film and television were due to the very imaginative writing and excellent scripts Michael J. Bird so often delivered. "
Michael Glynn
(The Lotus Eaters - Associate Producer, series 1, Producer series 2)
---

"I hadn't realised that Michael had died. I'm so very sorry - he was so lovely and I enjoyed working with him enormously. I remember him telling me about how he used a word processor to do his writing. I was terribly impressed - there weren't many of them around then. We're talking 1982ish.

I so wish I had had the opportunity of working with him further - I would have loved that. He was smashing and a very natural and approachable man."
Carol Royle
(Fiona Lytton-Neave in The Outsider)
---
---
"I, like you just love Michael Bird's work. I think his stories have originality and flair, apart from being damn good tales.

I so loved Who Pays the Ferryman? . I was living in Dublin in 1977 and nursing my youngest daughter at the time. Every Friday night at 7pm, I would settle in front of the TV, my glass of wine in hand (before we became so bloody politically correct and health obsessed - my daughter loved it!!!) my husband (who can't cook) would russle up something for me to eat and then barricade the door and the telephone to all comers, so that I could just live in Crete, for just an hour.

I so loved it, Elounda and the harbour, oh hell all of it! I even developed an interest in the Andartis and the Nazi occupation of Crete in WW2."